Like-minded, local producers & artisans.
Connecting with local producers & artisans has helped us make our weekly offerings that much better. We try to include a variety of fresh fruits and vegetables each week, as well as pasture-raised meat & dairy products, prepared foods, pantry staples, bath & body care products, animal care products and much more.
Are you a producer or creator and want to work with us? Contact us if you're interested in working together or growing vegetables for our farm-to-door deliveries!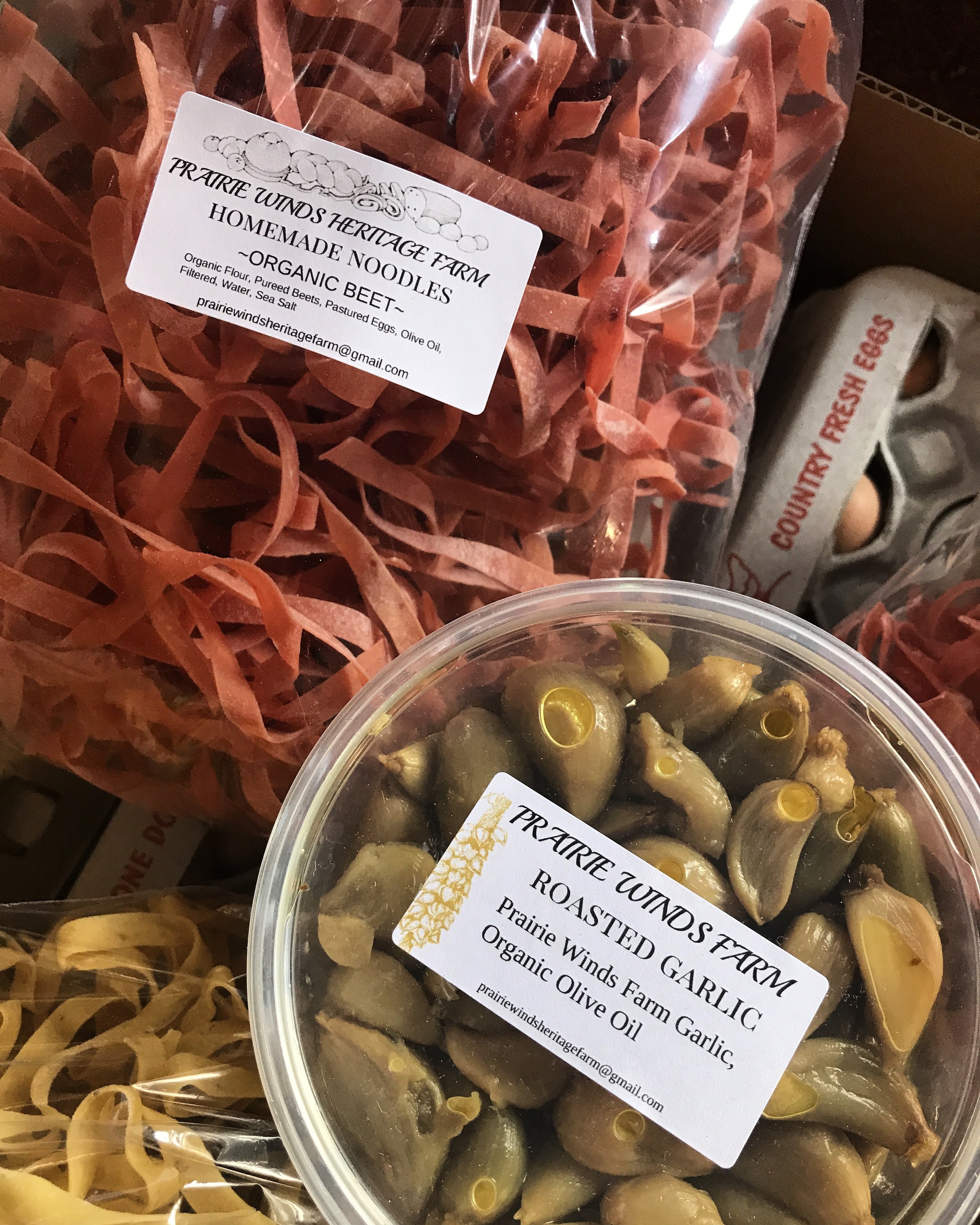 Oak St. Foods - located in Bellevue, ID - offers prepared foods to make your weekly meals even easier! Serving up dishes like chicken enchiladas, spring rolls, eggplant parmesan, and salad dressings.
Prairie Winds Heritage Farm - located in Fairfield, ID - offers onions, garlic, jams & jellies. Special treats include homemade pasta, bread, mustards and more!
Springs of Life - located near Hagerman, Idaho - offers vegan oat burgers, granolas, fresh fruits & vegetables. See some photos here!
Fir Grove Harvest - a local, organic farm providing organic and naturally grown produce and products in Fairfield, Idaho.
Old Almo Creamery - Their milk is natural, local, fresh, and creamline making it more like the milk you remember drinking as a child, with the cream floating on the top.
Hangar Bread - Offers artisanal baked breads & bagels. Utilizing a sourdough technique and ancient grains, Roman excels in offering top quality loaves for all to enjoy. Check out Hangar Bread's photos here.
B & G Produce - Bea and Greg have over 45 years of experience in the art of growing fruits and vegetables which started out of necessity to feed a growing family. They are located in Dietrich, Idaho which has a very unique soil that is rich in sandy loam that continues to delight our palate for organic foods. Check us out at Facebook B & G Produce.
Waterwheel Gardens - A small specialty farm on the east slope of the Emmett Valley near the beautiful Payette River in Idaho. They grow a variety of tree fruits, berries, grapes, leafy greens, vegetables, herbs & flowers. For Your Health & Enjoyment!
Chef Laura Apshaga cooks with her heart, and with the best ingredients. Her philosophy on food is that the closer to home you can source your ingredients the closer to the heart that the final product will be. Connecting with local farmers & using whole ingredients to reduce food waste Laura offers organic, local prepared food options.
Montana Flour & Grain - High quality, organic flours grown by small farmers throughout Montana. Flours include unbleached white all-purpose and whole wheat bread. Wholesale pricing available on 50 lb. bags. Also offering organic chicken feeds in 50 lb. bags.
Wood River Naturals - Providing affordable, handmade home & body essentials. All products are made from high quality, natural ingredients that you are sure to love!
Spike Diamond Livestock - Raises natural, hormone & antibiotic-free beef on pastures in Bellevue, ID. All forage was grown on their farm, without the use of petrochemicals, raised with proper nutrition and every effort to minimized stress. All meat is dry aged for 14 days, USDA certified processed, packaged, and frozen into family size portions.
Simeroi Springs -Their cows are hormone and antibiotic free, are naturally grass fed, and pasture finished. Double Springs Ranch is located in the pristine Pahsimeroi Valley of central Idaho.
Fat Cow Ranch - A family dairy operation in southern Idaho. Specializing in cheese from grass-fed cows & sheep.
Agrarian Harvest - Agrarian Harvest is a small, family farm in Buhl, Idaho on the Snake River Plain. Located in South Central Idaho their farm is diverse in livestock, poultry, produce and herbs. They are Animal Welfare Approved and Certified Organic by the Idaho State Department of Agriculture.
M&M Heath/Sunset Butte Organics - Mike and Marie Heath, raise over 400 acres of certified organic products for a variety of markets. We are happy to offer an assortment of their organic dried beans, potatoes & squash.
Wood River Ranch Beef - The staff at Wood River Ranch are cattle and resource management professionals and are dedicated stewards of their livestock and lands. They don't subscribe to fad programs in the production of their beef. Their cattle are grown and finished on grass right here in the Wood River Valley. They don't use antibiotics or hormones and take every measure to minimize stress in their operation.
24 Karrots Bakery
Free Range Farms
The Farm Idaho
Pride of Bristol Bay
Kasota Hydroponics
Purely Popped
Wagon Wheel Produce
BGood Bars
River Road Farms
We Knead Dough
Windy Acres Farm
Are you a producer or artisan and want to work with us? Contact us if you're interested in working together or growing vegetables for our farm-to-door deliveries!